HEY, JOIN THE MOVEMENT!
It is human to be forgetful and lose your keys, cell, passport, time… especially in this world of high demands and stress. Don't be shy about it. Be proud, and have a good laugh.
THE GLOBAL ASSOCIATION FOR DISTRACTED PEOPLE
We who sometimes forget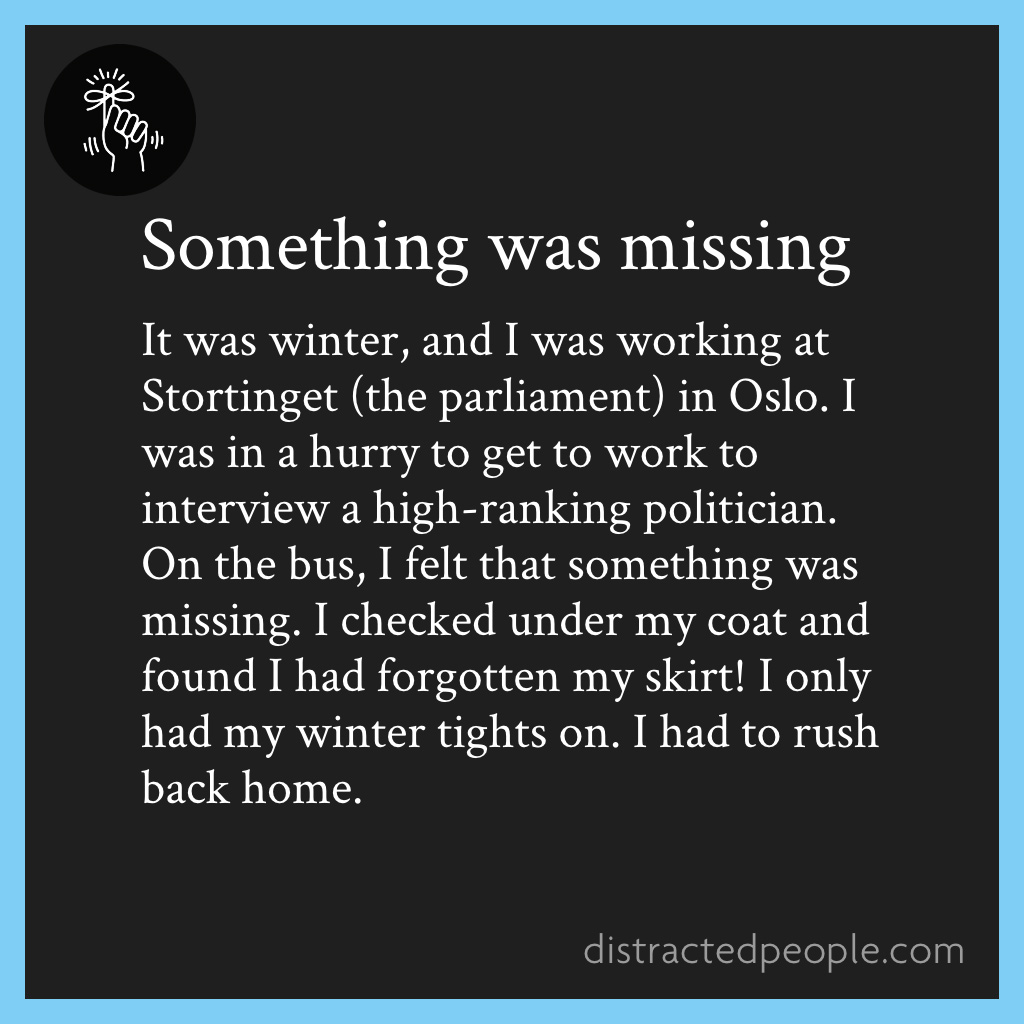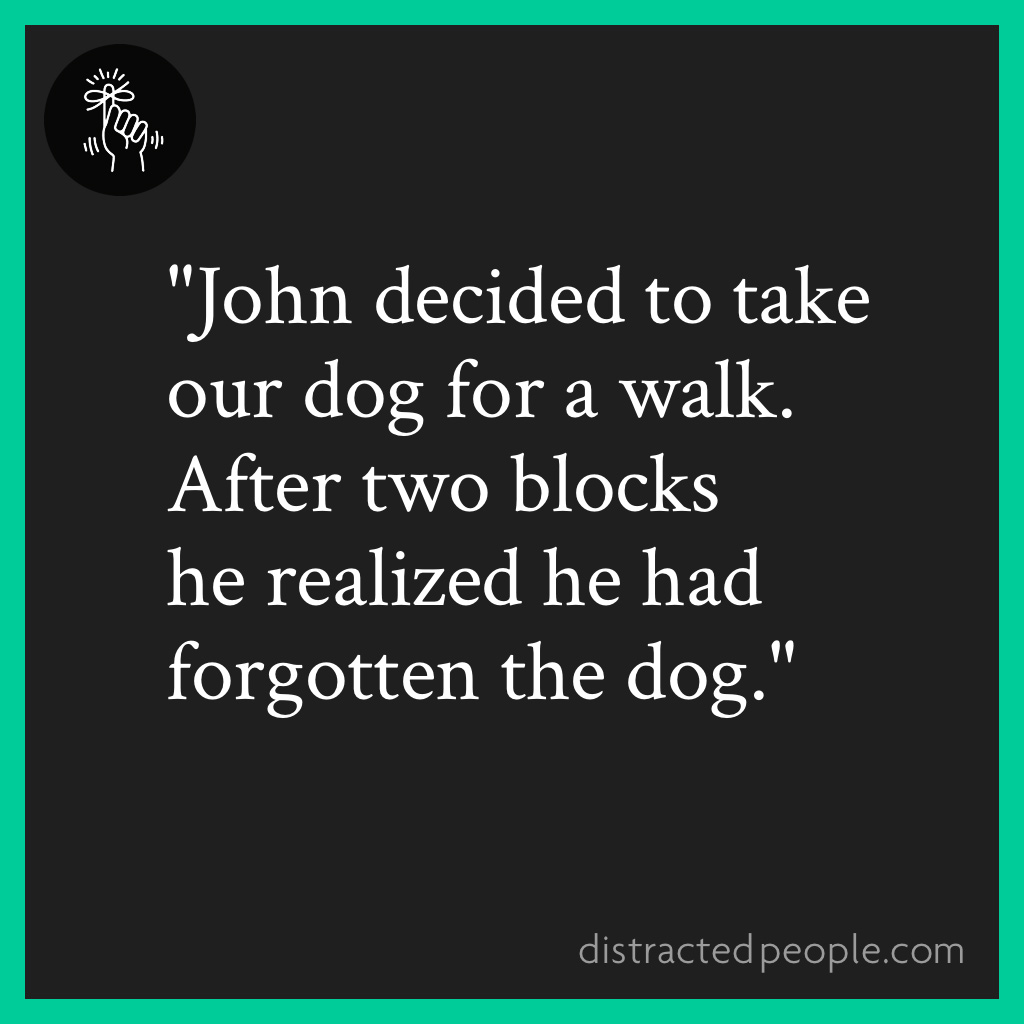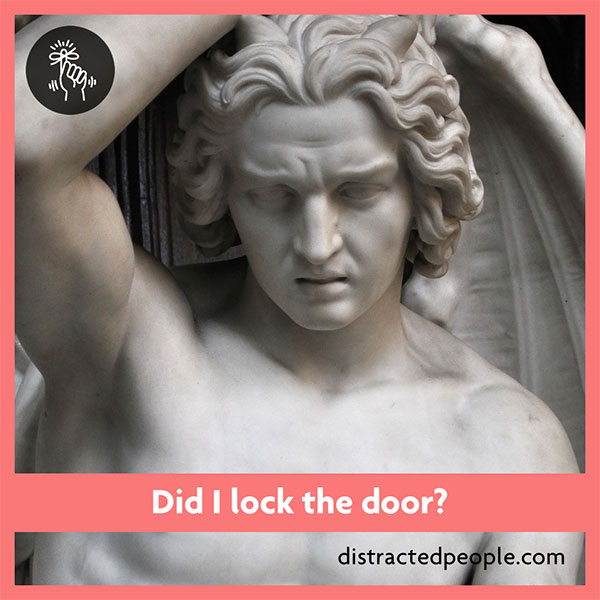 A PERFECT GIFT
---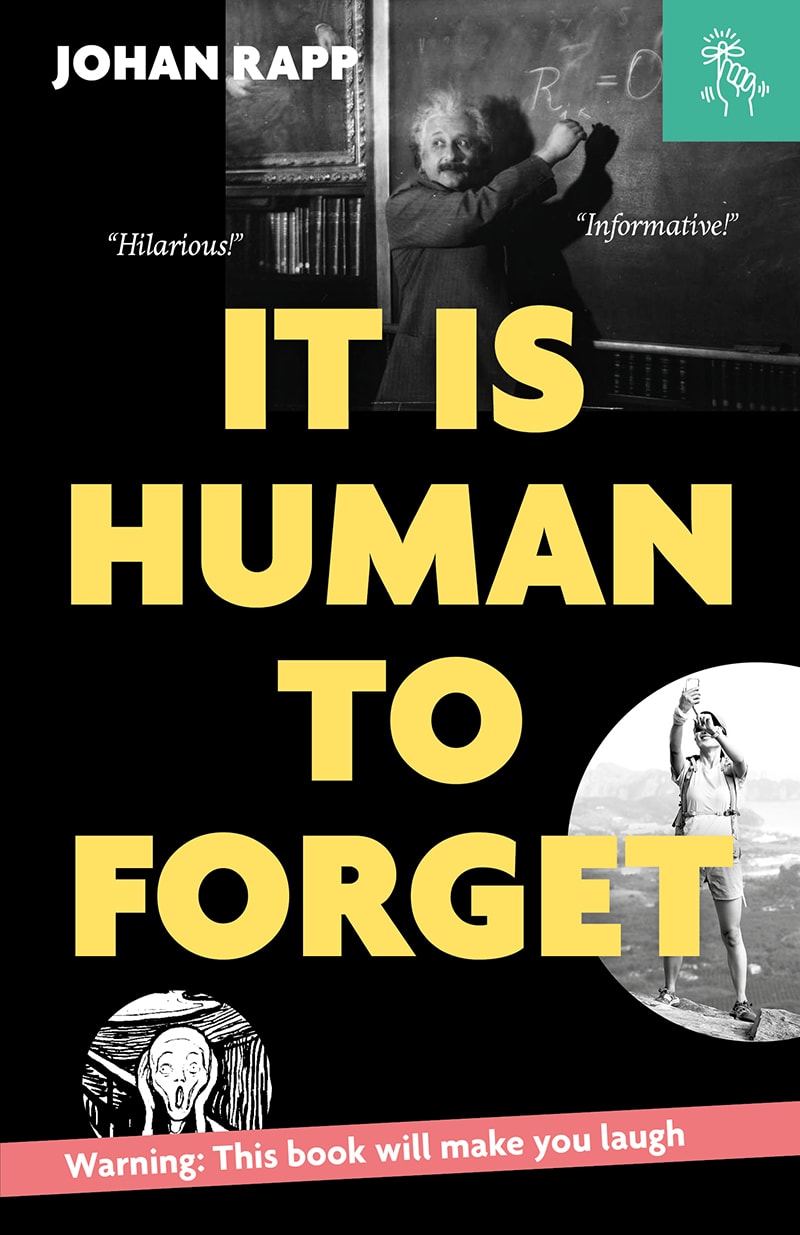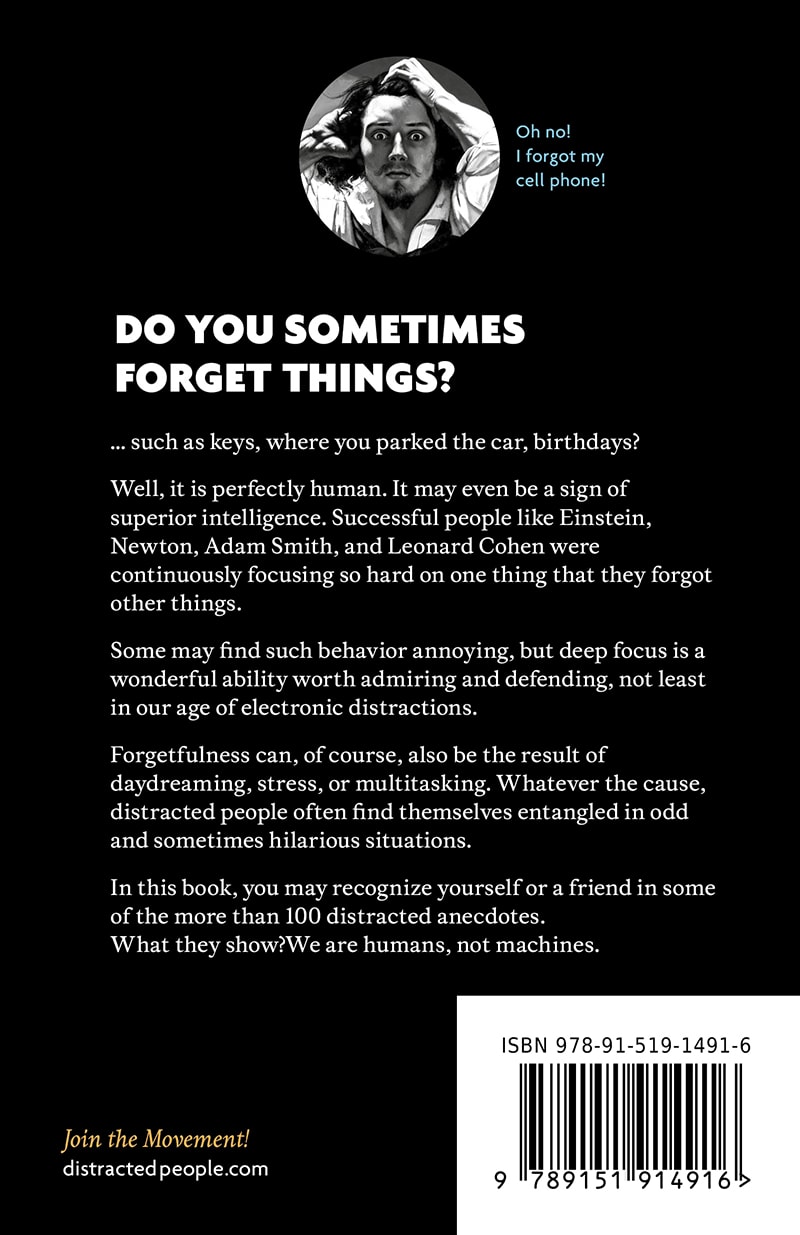 This book is about the positive aspects of being forgetful and absentminded, such as maintaining deep focus, boosting creativity and making room for serendipity. Distractedness can also get you into odd and hilarious situations as evidenced by 100 real-life anecdotes. Tips and research show how your life as a distracted person can be made a little easier.
MAKE YOURSELF, OR A FRIEND, A MEMBER AND GET:
1. A multi-year membership and a diploma that raises tolerance and impresses friends, work colleagues and family.
2. A newsletter (2–4/year) with distracted stories (good laughs), research (hope), and tips about devices, apps, and other stuff that makes life easier (such as less time spent searching for things).
For only 8 dollars!
Immediate delivery of PDF and welcome letter
Proceed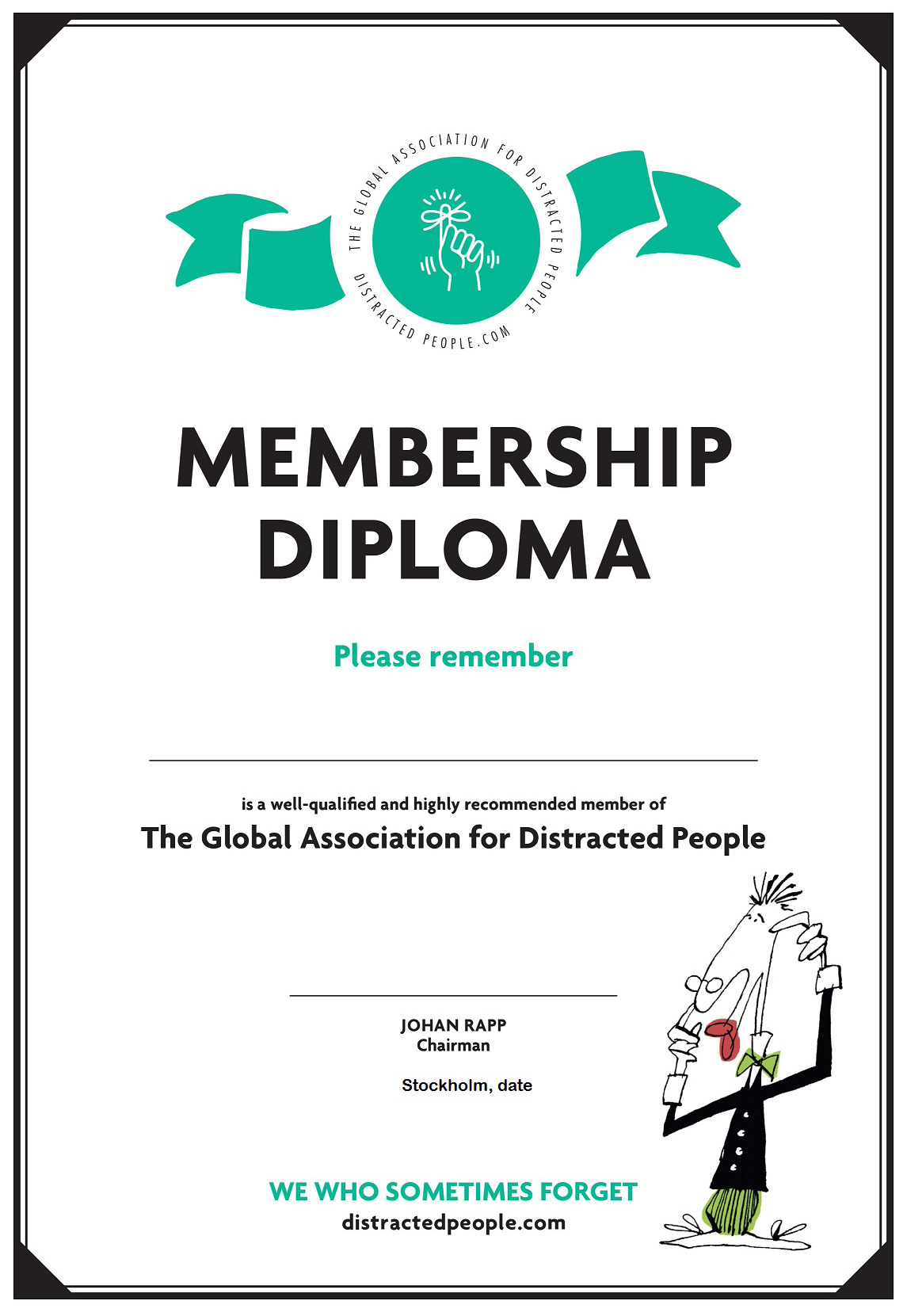 A PERFECT GIFT - FULL OF FUNNY STORIES
AN UNFORGETTABLE BOOK
A must read for distracted people
In this book, you have distracted stories from around the world. In some (perhaps many) cases, you may recognize yourself or a distracted friend.
Most stories are from people who have applied or been recommended for membership and others, who wanted to share distracted observations. For instance, the woman who told us that her sister took the bus to the car inspection service...
You'll also find reports, tips and research that will make your life as a distracted easier. It is a great read and a perfect gift.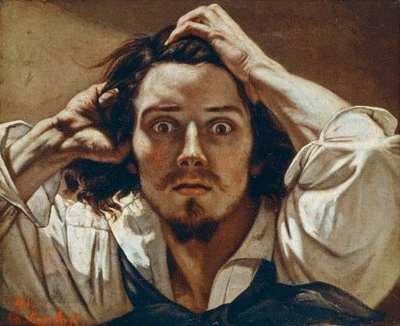 We were a group of distracted friends who felt people around us were increasingly annoyed by our distractedness. It came to a point where we said there ought to be an assocation advocating the right to be distracted. We, of course, forgot to start the association. But years later, Johan Rapp recalled this wonderful idea. It was founded in Sweden where it has tens of thousands of followers and is now spreading around the world.
If you wish to contact us, send a mail:
office@distractedpeople.com
CHAIRMAN AND FOUNDER: Johan Rapp, lives in Stockholm, Sweden. He saw the need for an association early in his life as relatives and friends kept reminding him of how distracted he was. But, for many many years, he forgot to start one, until one day …
BOARD MEMBER: Julia Marshall, runs a children's book company Gecko Press from New Zealand (geckopress.com). She is daily involved in distracted situations. For instance, when she visited Pisa to see the leaning tower, she was so distracted that she missed it.
BOARD MEMBER: Åke Malm, has returned to Sweden from his long term stay in Bangkok. A freelance writer and a tall man who speaks in few words. He can appear very orderly, almost pedantic. But those who know him, soon realize that behind the facade is a truly distracted person.
BOARD MEMBER: Art Max, humoristic former head of the Associated Press in Holland and India, who runs a boutique hotel in Sri Lanka with his wife Ruth. When asked about being a member of the board of this association he may (again) say: "Am I?"
BOARD MEMBER: Aubrey Edwards, a New Orleans-based portrait photographer and educator. Regular pastimes include forgetting what day it is, staring at clouds moving in the sky, leaving her purse in taxi cabs and not finding the keys at home.
STRATEGIC ADVISOR: Henrik Ahlen, always equipped with the latest technical gear and on the lookout for future trends, helps the association navigate in the 21st century. Not distracted enough to be a board member, but developing in that direction